Featured Listings UNDER Care & Disability
Care & Disability Solutions in the Colwyn Bay Area
Showing 1 to 12 of 12
< Back 1 Next >

Colwyn Bay, Conwy
Abbey Dale House provides respite, short and long-term care for elderly service users.

Abergele, Conwy
Disabled Equipment and Mobility Aids from Abergele Mobility, North Wales Order online safetly and securely with our secure ordering process. If you have any questions or cannot find exactly what you want please call 01745 827990 during business hours, our sales advice team will be delighted to answer any of your questions. For overseas orders please contact one of our customer service team on 44 1745 827990 during normal office hours We accept Visa and Mastercard,and Debit Cards.

Llandudno, Conwy
Adjustacraft is one of the UK's leading suppliers of mobility aids for outdoors and in the home. With our award winning customer service, and nationwide service and delivery, we specialise in helping our customers maintain their much valued freedom and independence.

Rhos-on-Sea, Conwy
Baker's Dozen - "A little bit of help, now and then". Flexible, friendly,professional support at home based on traditional, old fashioned values - discretion, courtesy and respect. We understand that everyone wants to be independent,safe and happy at home and that sometimes we all need a bit of help then managing our day to day routines.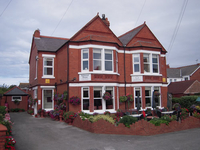 Rhyl, Denbighshire
Balmoral House is a long established quality care home set in a pleasant cul-de-sac in a much sought after area of Rhyl, a seaside town in North Wales, the home provides and ideal environment for those who wish to spend their retirement years in the comfort and security of a caring family atmosphere.

Llandudno, Conwy
Britannia Mobility is a leading supplier of mobility aids, distibuting throughout the UK. Britannia Mobility offers a wide range of products to aid people in keeping an active and comfortable lifestyle. Products on offer include
Mobility Scooters
Riser Recliners
Stair Lifts
Adjustable Sleep Systems
The company offers a free, no-obligation advice service offering you the perfect aids to suit your needs.

, Conwy

Colwyn Bay, Conwy
Conwy Voluntary Services Council (CVSC) works with voluntary organisations, community groups and volunteers in Conwy

Abergele, Conwy
Is your business, service or establishment complying with The Disability Discrimination Act?? We at Cyfal can audit your services or premises, and give advice accordingly. It does not need to cost the earth, and could save your company from having a costly discrimination claim made against it.

Penrhyn Bay, Conwy
My Feet Foot Health Your feet are the foundations of your body. So, if your feet have problems, your whole body may suffer. If your feet hurt because of hard skin, corns, poorly fitting shoes or other problems, this will alter how you walk. This forces abnormal loads on your ankles, knees, hips and your back! Would you like to know how to keep your feet in good condition? Call for an appointment 0774 774 0055

Abergele, Conwy
O.C.S. Care supply homecare to help the elderly and infirm keep their independence and dignity whilst living in their own home.We may be able to help you if you are older and frail and have difficulty...

Deganwy, Conwy
Paradise Pillows is a company based in North Wales making and selling pillows especially designed for use during the treatment of breast cancer. Post op, operative cushions.
I was diagnosed with breast cancer last year and found the use of this pillow was of great comfort to me post op, especially when sleeping. I decided that I would like to share the idea with other ladies receiving treatment for breast cancer. The Paradise Pillow has a unique design which has been adapted and refined for optimum comfort and ease of use.
< Back 1 Next >